Versatile Workwear!
Figuring out what to wear for work can be a frustrating dilemma. Sometimes "comfortable" looks too frumpy, "stylish" looks too flashy, and "professional" looks too boring. This was my predicament in planning for a recent professional conference in Kansas City. As with many work functions, presentations and meetings during the day often turn into networking and social events at night. So I went hunting for an outfit that was professional, memorable, and versatile.
I started my search at a lot of the usual places that I love to shop (see my "what I love page" to get an idea). While I saw a lot of stuff I loved, nothing was working out quite right for this trip. On a whim, I strolled into White House Black Market for the very first time in my life. Immediately, I was greeted warmly and informed about their great deals that day. Feeling the warm, welcoming vibe, I headed directly for the clearance section (this girl loves a good deal :) ). I grabbed some amazing pieces and the sales associate started a fitting room for me.
As I turned, I spotted the colorblock sheath dress and went for it. A simple pattern with basic colors reinforces a professional look but a feminine cut gives the dress a fun vibe. To top off the ensemble, I went for the black ponte jacket. I'm not normally a blazer kind of girl- the heavy shoulder padding and boxy cuts make for an awkward fit- but I felt I needed something to increase the utility of this dress. Thankfully, WHBM, in addition to having a good selection of blazers, also has blazer alternatives, which have similar functionality but different design elements. In this case, the jacket has a nice tapered cut with narrow shoulders and very light padding. The buttons also add a little pizzazz so this jacket could definitely be worn with pants or jeans as well.
I really loved this outfit because it worked for the daytime conference as well as evening social events. Wearing the dress and jacket during the day made me feel professional yet feminine, comfortable yet polished, stylish yet softened. When I was having fun around Kansas City outside of the conference, I simply slipped the blazer off.
Some general tips:
When buying professional wear, opt for something that can be worn during the day and evening.
If you don't like traditional blazers try a jacket with a tapered fit and light shoulder padding.
Building a versatile outfit takes planning, effort, and luck. But remembering versatility is the key to shopping- it can save you time and money later!
When in Kansas City, strike a pose!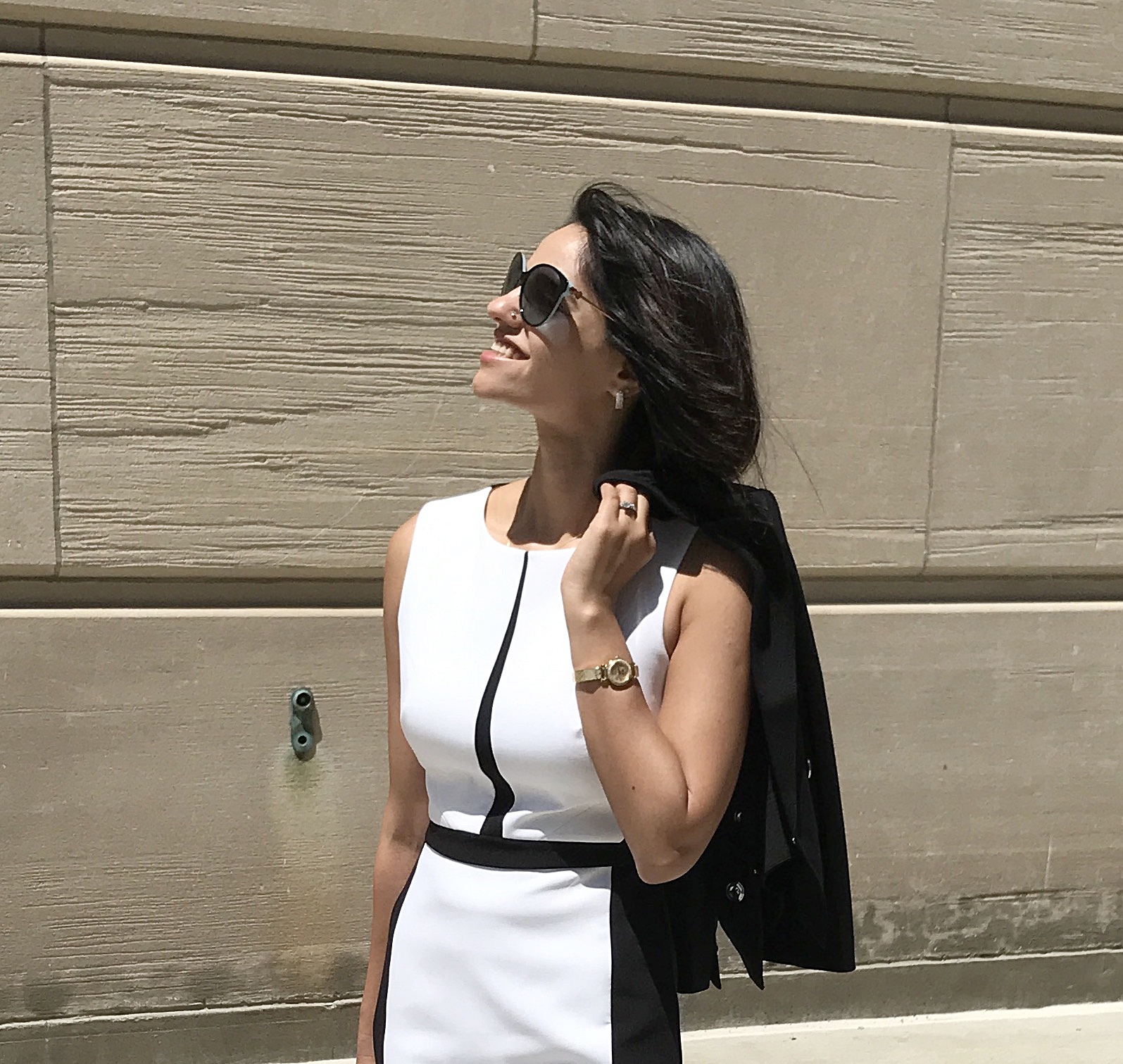 Without the blazer close-up.
The colorblock white and black print really brings out the feminine cut.
I hope you all like the look as much as I do! Please hit like and stay tuned for more.
Follow me on Instagram!
Blog 2